"I will pray for you" or what I like to call, "The 5 Famous Last Words of a Christian" are exactly that for most people – me, included.
After I had used up the little prayer journal my aunt had given me for keeping up with prayer requests, I could not find another like it.  This was before the days of Amazon and internet search capability.  Since I couldn't find another one, I gave it up.
Several years later, a dear friend ask me to pray for her dad who was struggling health wise.  I told her, "I will pray for you", and then it completely left my mind.  That was until she called me up to thank me for praying.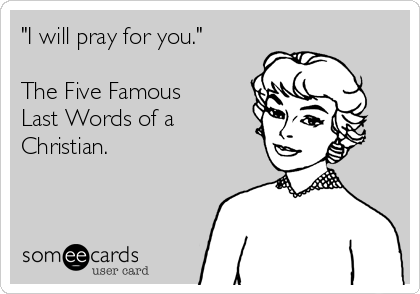 I was so mad at myself that I decided to do something about it – take up the prayer journaling method I had learned from my aunt's gift.  It dawned on me that even though I could not find one like I had, I could create a notebook with an Excel spreadsheet. From there, it grew into my own personal prayer closet.
Now, all I do is survey my day and think about those things I have been asked to pray over and those things that I've uncovered throughout the day that need prayer.
Using my "Let your words be few" method, I simply list the thing or person I am praying for and then the desired outcome.  I base the desired outcome on the divine titles and attributes of the holy Trinity; this is the only way to pray according to God's will.
For instance, if someone loses their job, resist the temptation to pray they get another job.  What?  I know that sounds unhelpful, but truth is, we do not know what God is trying to accomplish in that person's life.  Maybe God is chastising that person or calling them into ministry?  Perhaps God is re-positioning them for something better?  I think the "higher" quality prayer petition is to pray for what is truly needed and in line with the nature of Who God is, and that is PROVISION.
Remember, Jehovah-Jireh (God our Provider)?  That is really what that person needs during this time of unemployment.  Instead of telling God how to provide for that person's provision (with another job), I am praying that the real need is met, and leaving it up God to work His will.
When it comes to a sick person, I always pray for healing.  Nowhere in scripture are we discouraged from praying for a person's healing.  Jesus received every person who asked for healing.  Don't believe me?  Click this:
James also instructs every sick person to call upon the elders to come and pray for their healing (James 5:14).
Even when Jesus Himself was faced with death, He asked for His life to be spared.  The key is to have the heart and mindset that however God answers that request for healing that it will be well with our soul – because we desire God's will as much as our desired outcome.
"Father, if you are willing, take this cup from me; yet not my will, but yours be done." Luke 22:42
This is the second time I've mentioned using divine titles in our prayers during my 31 Days of Structured Prayer Journaling series.  If you do not have a book about the divine titles, you can typically Google a list to use.
So, where there is:
Conflict, pray for peace. (Isaiah 9:6)
Broken relationships, pray for reconciliation. (Matthew 5:23-24)
Theft, pray for restoration. (Deuteronomy 30:3-13)
Depression, pray of joy. (Psalm 43:4)
Fear, pray for a sound mind. (2 Timothy 1:7)
Danger, pray for safety. (Psalm 46)
Confusion, pray for guidance. (John 16:13)
Dark secrets, pray for light.  (John 8:12)
Hate, pray for love. (1 Peter 4:8)
When we pray this way, we are always praying according to the nature of who God is.
Tomorrow, I will discuss God's answers to your prayers.  I will be sharing a fact with you that I bet you did not know about God answering our prayers.  It will be real eye-opener!
I am participating in The Nester's 31 Days of Writing.  You can go here to keep up with my 31 day feature on structured prayer journaling.
Many blessings,
~gina
Dear Guest,
When you subscribe here to my blog, you will receive these weekly features: (Click and check out the corresponding posts!)
Award-winning author Gina Duke is a wife, mom and the Director of Women's Ministry at her local church. With a B.S. in Organizational Leadership, she is able to bring a clear word for authentic Christian living. Through her book, "Organizing Your Prayer Closet: A New and Life-Changing Way to Pray" (Abingdon Press), she imparts 1 Peter 4:7 with the gift of structured prayer journaling. You may also follow her on Twitter and Instagram @TheGinaDuke.